Naturalistic Fish Tiles

Fish 1
4 x 4"
with hint of green glaze on brown



Fish 2
4 x 4"
with hint of green glaze on brown



Fish 3
4 x 4"
brown with green underglaze


Fish 4
4 x 4"
Brown with green glaze



Fish 5
4 x 4"
with hint of green glaze on brown



Fish 6
2 x 4"
Tiles Inspired by
M. P. Verneuil Designs
Fish and Seaweed
(Blue/orange/green)
4 x 8"
Fish and Seaweed
(Brown/orange/green)
4 x 8"
Fish and Seaweed
(Blue and White)
4 x 8"
Also available in plain brown stain
Tiles Inspired by
William De Morgan
De Morgan Fish 1 and 2
4 x 4" each
Blue and White



De Morgan Fish 1 and 2
4 x 4" each
brown



De Morgan Fish 3
4 x 4"
brown



De Morgan Fish 4
6 x 6"
blue gloss and orange gloss
faux tube lined
Click on any thumbnail to see full size image
William de Morgan, British, (1839-1917) was a potter and tile designer, involved in the Arts & Crafts movement. A life-long friend of William Morris he designed tiles, stained glass and furniture for Morris & Co. from 1863 to 1872. His tiles are often based on medieval designs or Persian patterns, and he experimented with innovative glazes and firing techniques. Fish, fantastical birds, and images from medieval manuscripts were popular motifs. I have interpreted some of his two dimensional fish designs in relief tiles shown here. I have also interpreted one of his fantastical bird designs as a dragon in relief, which can be seen on the Myth and King Arthur tile page. See also my rabbit tile, based on one of his designs on the Animal page.
Maurice Pillard Verneuil (1869 - 1942)
was a French Designer who created a number of animal and floral motifs in the Art Nouveau style. I have interpreted some his fish designs in relief. You may also see my interpretation of one of his bird designs on the Bird page in this site.
How they look with set with travertine field tile-- some suggestions:
click to see larger image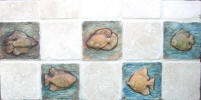 take a look at our
sample board
and
installation
page for how these and other tiles look set with field tile.